Tamarra Coleman Receives Gateway Technical College Dr. King Humanitarian Award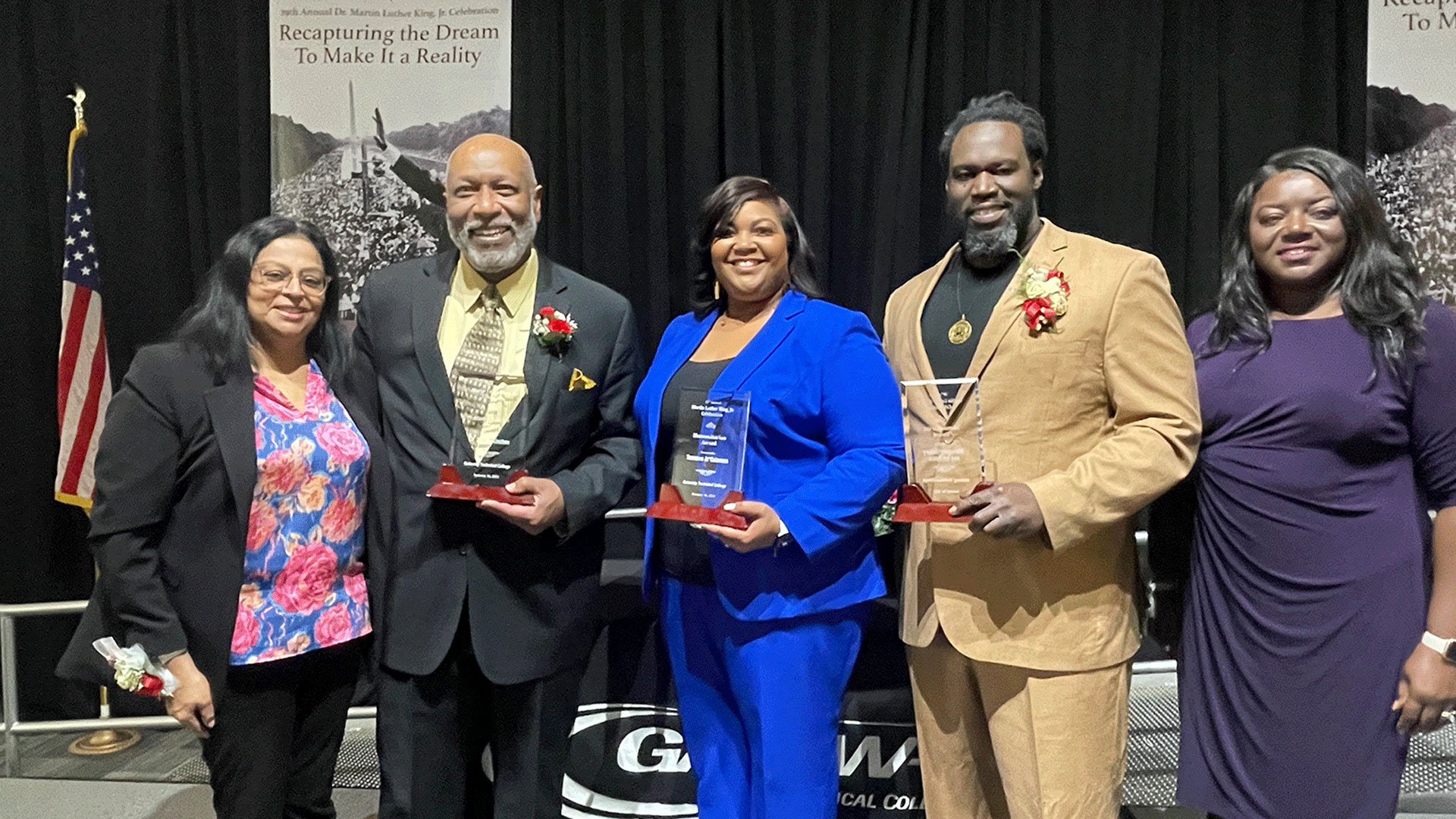 Kenosha WI, (January 16, 2023) Tamara Coleman was honored at the Gateway Technical College's annual Dr. Martin Luther King Jr. Celebration held on Monday, January 16th in the Madrigrano Conference Center on the college's Kenosha Campus. She received one of this year's Dr. King Humanitarian awards, recognizing her for contributions and dedication to the community and her volunteerism.
"She personifies all the qualities that this award signifies."
"Tamarra Coleman is a powerhouse in the Kenosha community. I see her at many functions throughout the week, working tirelessly to advance the needs of the most vulnerable parts of our community," stated Coleman's nominator. "She said something to me that has always stuck with me: 'The people we work for are in need. They are not needy.'"
Coleman is the executive director of the Shalom Center in Kenosha. She also serves as board chairperson for the Kenosha County Health Center/Pillar Health, board member of the Kenosha Area Business Alliance and board member for Building Our Future, among other groups that provide services for the underserved in Kenosha County.
"Tamarra has demonstrated a unique ability to work with Board Members, Government Agencies, Employees, Donors and Clients; all with equal effectiveness," stated Wes Ricchio, Shalom Board Treasurer. "She personifies all the qualities that this award signifies."
Also receiving awards this year were and Scott Terry and his Mahogany Gallery and Cultural Center along with UW Parkside music professor James Kinchen. The Dr. Martin Luther King Jr. Humanitarian Award is an annual effort the college undertakes to honor those individuals and groups who work to support the community and exemplify Dr. King's values.
About the Center
Shalom Center is a 501(C)3 in Kenosha County serving as the only homeless shelter, largest food pantry, and longest running nightly meal program. Shalom Center is a community resource that provides housing, food, guidance, and support to individuals and families in need across our community. Our mission is simple: serve the community through food, shelter and supportive ways. We believe that this mission will help realize a greater vision: self-sufficiency by maximizing the potential of people we serve
SHARE THIS:
PRESS & PUBLICATIONS
National Women's Small Business Month—Honoring Kenosha's Leaders
October 30th, 2023
WGTD Community Matters-Interview with Tamarra Coleman of the Shalom Center
October 7th, 2023
Hope Box: Jeffrey Hines unveils his Eagle Scout project at the Shalom Center
May 31st, 2023
Shalom Center receives United Way Spirit of Caring Award
April 1, 2023
Pleasant Prairie honors Shalom board member Wayne Koessl with street naming
Jan 15, 2023
Tamarra Coleman named as one of this year's Gateway Technical College Dr. King Humanitarians
Jan 11, 2023
Tamarra Coleman, Shalom Center step up to serve the community
Feb 4, 2022
Community: As Shalom Center turns 40, let's continue taking care of each other
Jan 31, 2022
Keeping Kenosha warm for the winter
Nov 9, 2021
Successful Sunday: Pasta dinner benefitting the Shalom Center a big hit
Nov 8, 2021
Shalom Center hosting Back2School Party Thursday
Aug 24, 2021
Kenosha Community Foundation announces 2021 Unrestricted Funds Grants
Jun 1, 2021
Kenosha County Food Bank partners with other nonprofits to streamline food distribution
Apr 20, 2021
Shalom Center celebrates major milestone
Feb 26, 2021