Shalom Center appoints Jolynn (JoJo) Franklin to work as a Diversion Specialist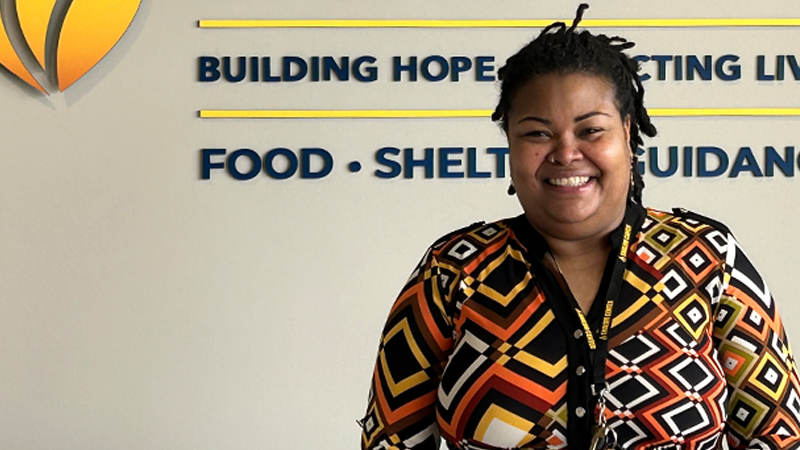 Kenosha WI, (March 21, 2023) Shalom Center announced Jolynn (JoJo) Franklin has been named Diversion Specialist for the nonprofit devoted to providing emergency food, shelter, and guidance to the Kenosha community. As a diversion specialist, she will work with those who are at imminent risk of homelessness or those who have lost their housing by assisting them with finding alternate solutions to entering shelter or unsheltered homelessness.
Franklin, a mental and behavioral health professional with 27 years of experience with AODA and those in crisis, has a long history of advocating for clients to obtain resources and enhance support networks.
"All of us at the Shalom Center see diversion as one of our top priorities. In 2022 we diverted 551 individuals from homelessness," said Tamarra Coleman, executive director of Shalom Center. "With JoJo's experience as a dedicated and reliable mental health and crisis technician, I am confident in our ability to continue to serve our community."
In the role of Diversion Specialist, Jojo will work closely with community partners to quickly divert and prevent individuals and families experiencing a housing crisis from becoming homeless by providing intervention services, connect them to the needed resources and work to develop creative, alternate housing solutions.
"I am honored to have this opportunity to work with the Shalom Center. I have a long history of advocating for clients to obtain resources and enhance their support networks. I am looking forward to serving and leveraging my training and experience in diverting individuals and families from homelessness," stated Franklin.
About the Center
Shalom Center is a 501(C)3 in Kenosha County serving as the only homeless shelter, largest food pantry, and longest running nightly meal program. Shalom Center is a community resource that provides housing, food, guidance, and support to individuals and families in need across our community. Our mission is simple: serve the community through food, shelter and supportive ways. We believe that this mission will help realize a greater vision: self-sufficiency by maximizing the potential of people we serve
SHARE THIS:
PRESS & PUBLICATIONS
Hope Box: Jeffrey Hines unveils his Eagle Scout project at the Shalom Center
May 31st, 2023
Shalom Center receives United Way Spirit of Caring Award
April 1, 2023
Pleasant Prairie honors Shalom board member Wayne Koessl with street naming
Jan 15, 2023
Tamarra Coleman named as one of this year's Gateway Technical College Dr. King Humanitarians
Jan 11, 2023
Tamarra Coleman, Shalom Center step up to serve the community
Feb 4, 2022
Community: As Shalom Center turns 40, let's continue taking care of each other
Jan 31, 2022
Keeping Kenosha warm for the winter
Nov 9, 2021
Successful Sunday: Pasta dinner benefitting the Shalom Center a big hit
Nov 8, 2021
Shalom Center hosting Back2School Party Thursday
Aug 24, 2021
Kenosha Community Foundation announces 2021 Unrestricted Funds Grants
Jun 1, 2021
Kenosha County Food Bank partners with other nonprofits to streamline food distribution
Apr 20, 2021
Shalom Center celebrates major milestone
Feb 26, 2021