Shalom Center's "Pistons For HOPE" Free Car Show on Saturday, June 24th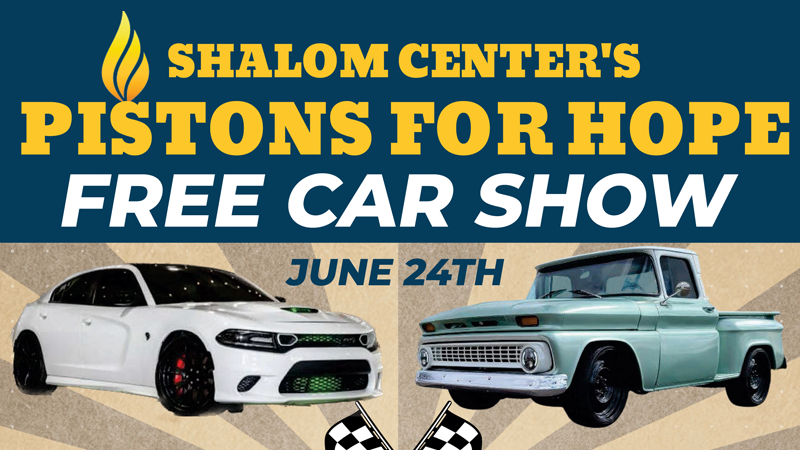 Kenosha WI, (June 14, 2023) Shalom Center "Pistons for Hope" Car Show will take place on Saturday, June 24th, 2023, from 10am to 2pm at St. Anne Catholic Church, 9091 Prairie Blvd, Pleasant Prairie, Wisconsin. The 2nd annual car show will feature both classic cars and new performance vehicles. The public is invited to judge and select the winners in three categories—Best of Show, Best of Old, and Best of New.
The entire show is geared toward family fun. Food trucks, face painting, raffles, K9 demonstration, vendors, beer tent and a DJ playing music will ensure an enjoyable time for everyone of all ages. Awards and raffle prizes will be announced at 1pm.
"Shalom Center was founded in 1982 by a small group of individuals who hoped to do one simple thing: feed those in need. Our car show helps to highlight that mission of HOPE—Helping Other People Every day to the general public," stated Tamara Coleman, Executive Director of the Shalom Center.
All proceeds will benefit ongoing Shalom food and shelter programs including the opening of their new HOPE HUB Community Center in September 2023. The family-fun event is free to the public. To display a car, pre-registration is five dollars and ten dollars at the door. To learn more visit www.shalomcenter.org/events.
###
About the Center: Shalom Center is a local 501(c)3 in Kenosha County serving as the only homeless shelter, largest food pantry, and longest running nightly meal program. Shalom Center is a community resource that provides housing, food, guidance, and support to individuals and families in need across our community. Our mission is simple: serve the community through food, shelter, and supportive ways. We believe that this mission will help realize a greater vision: self-sufficiency by maximizing the potential of people we serve. https://www.shalomcenter.org/
###
SHARE THIS:
PRESS & PUBLICATIONS
Hope Box: Jeffrey Hines unveils his Eagle Scout project at the Shalom Center
May 31st, 2023
Shalom Center receives United Way Spirit of Caring Award
April 1, 2023
Pleasant Prairie honors Shalom board member Wayne Koessl with street naming
Jan 15, 2023
Tamarra Coleman named as one of this year's Gateway Technical College Dr. King Humanitarians
Jan 11, 2023
Tamarra Coleman, Shalom Center step up to serve the community
Feb 4, 2022
Community: As Shalom Center turns 40, let's continue taking care of each other
Jan 31, 2022
Keeping Kenosha warm for the winter
Nov 9, 2021
Successful Sunday: Pasta dinner benefitting the Shalom Center a big hit
Nov 8, 2021
Shalom Center hosting Back2School Party Thursday
Aug 24, 2021
Kenosha Community Foundation announces 2021 Unrestricted Funds Grants
Jun 1, 2021
Kenosha County Food Bank partners with other nonprofits to streamline food distribution
Apr 20, 2021
Shalom Center celebrates major milestone
Feb 26, 2021