Shalom Center Food Pantry and Meijer Fight Food insecurity in Kenosha through Simply Give Hunger Relief Program.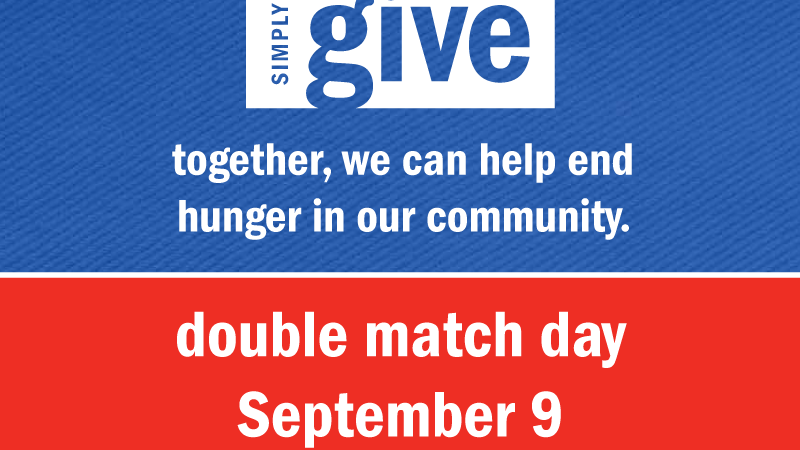 Kenosha WI, (August 19, 2023) Shalom Center Food Pantry is proud to announce a partnership with Meijer to provide much-needed relief to local families facing food insecurity through the retailer's customer-driven hunger relief program, Simply Give.
As part of its ongoing commitment to invest in its communities, Meijer announced in April 2023 an extra $1 million donation to Midwest food pantries that participate in the retailer's Simply Give program. The program encourages customers to purchase $10 Simply Give donation cards, which are then converted into Meijer food-only gift cards and given to a local food pantry in the store's community.
Shalom Center Food Pantry will benefit from donation cards purchased at Meijer's on 7701 Green Bay Road in Kenosha now through Sept. 30. In addition, Meijer will double match any cards purchased on Saturday, Sept. 9, effectively tripling contributions made on that day. Meijer customers shopping online using Meijer pickup or home delivery can also purchase Simply Give donation cards as an add-on to their orders.
"Recent hardships have taught us all the importance of community members supporting each other," said Abby Markuson, Shalom Center Director of Food Programs. "We encourage community members to help us feed their neighbors facing food insecurity in insert your community this season by purchasing a Meijer Simply Give food donation card during their next shopping trip."
Since the program began in November 2008, more than $83 million has been generated for food pantries in the Midwest to distribute to its neighbors in need.
"The Simply Give program is a way for Meijer customers to partner with us and support the food banks and pantries that feed families in need in their own communities," said Cathy Cooper, Senior Director of Community Partnerships and Giving for Meijer. "We certainly couldn't do it without the support and commitment of our generous customers and team members, who stand beside us in this effort."
###
About the Center: Shalom Center is a 501(c)3 in Kenosha County serving as the only homeless shelter, largest food pantry, and longest running nightly meal program. Shalom Center is a community resource that provides housing, food, guidance, and support to individuals and families in need across our community. Our mission is simple: serve the community through food, shelter and supportive ways. We believe that this mission will help realize a greater vision: self-sufficiency by maximizing the potential of people we serve. https://www.shalomcenter.org/
About Meijer Philanthropy: Meijer is a family-owned retailer based in Grand Rapids, Mich. with a fundamental philosophy aimed at enriching lives in the communities it serves. Meijer proudly donates more than 6 percent of its net profit each year to charities throughout the Midwest. With hunger as a corporate philanthropic focus, Meijer partners with hundreds of food banks and pantries through its Simply Give and food rescue programs. Meijer also supports education, disaster relief, and health and wellness initiatives. For additional information on Meijer philanthropy, please visit www.meijercommunity.com. Follow Meijer on Twitter @twitter.com/Meijer and @twitter.com/MeijerPR or become a fan at www.facebook.com/meijer.
###
SHARE THIS:
PRESS & PUBLICATIONS
Hope Box: Jeffrey Hines unveils his Eagle Scout project at the Shalom Center
May 31st, 2023
Shalom Center receives United Way Spirit of Caring Award
April 1, 2023
Pleasant Prairie honors Shalom board member Wayne Koessl with street naming
Jan 15, 2023
Tamarra Coleman named as one of this year's Gateway Technical College Dr. King Humanitarians
Jan 11, 2023
Tamarra Coleman, Shalom Center step up to serve the community
Feb 4, 2022
Community: As Shalom Center turns 40, let's continue taking care of each other
Jan 31, 2022
Keeping Kenosha warm for the winter
Nov 9, 2021
Successful Sunday: Pasta dinner benefitting the Shalom Center a big hit
Nov 8, 2021
Shalom Center hosting Back2School Party Thursday
Aug 24, 2021
Kenosha Community Foundation announces 2021 Unrestricted Funds Grants
Jun 1, 2021
Kenosha County Food Bank partners with other nonprofits to streamline food distribution
Apr 20, 2021
Shalom Center celebrates major milestone
Feb 26, 2021